WELCOMES YOU FOR AN ENJOYABLE EVENING
FILLED WITH MUSIC

The Embassy of Switzerland has the pleasure to announce the following concert held on the occasion of the 50th anniversary of the establishment of diplomatic relations
Switzerland - China
THE DORIAN CONSORT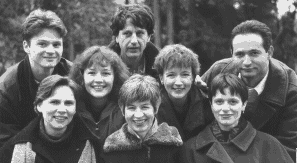 Karl-Heinz Schütz, David Inniger, Shalev Ad-El
Käthi Steuri, Marlyse Capt
Eva Amsler, Anna Pfister, Claudia Dora

IN CONCERT

Time: June 6th, 2000, 19.30 hours
Venue: Beijing Jinfan Concert Hall
(No. 24 Wangfujing Street)
Ticket prices: RMB 40.-- to RMB 180.--
Booking hotline: 6463 6628 or 6463 6572
Booking by fax: 6460 8844

Program

Johann Sebastian Bach, Suite no. 2 in B minor
Frank Martin, Pavane Couleur du Temps
Klaus Huber, Ein Hauch von Unzeit
Johann Sebastian Bach, Brandenburg Concerto no. 5

THE DORIAN CONSORT

It was in 1990 that the members of THE DORIAN CONSORT came together. At first, the musicians intended to gain insight into 18th Century literature through playing beyond the usual restraining perfectionism and to give just a few concerts for fun. Since then, they have met for a working week every summer, over which time a genuine sense of play has evolved, characterized by responsibility of the individual. No one "directs" the ensemble in the traditional sense, which is quite unusual for a group of this size. Naturally, musical concepts are discussed, but in the end, each member "leads" and enjoys individual room for action. Consequently, there is plenty of room for spontaneous inspirations.

The Consort consists of eight musicians, all of whom are acclaimed soloists and teachers. Depending on the program, the ensemble is complemented by additional woodwinds, winds, strings and vocalists. The musicians interpret baroque and classical works on modern instruments, but an increasing number of contemporary composers are also featured. Historical performance practices are considered when possible. Their approach of interpretation emphasizes transparency, expressive tonal speech, and exuberant joy in play.

THE MUSICIANS

Eva Amsler, flute
Eva Amsler studied the flute with Günter Rumpel at the Bern Conservatory and with Aurèle Nicolet, Musikhochschule Freiburg in Breisgau (Germany). Master Classes with André Jaunet and James Galway. She is second solo flutist with the St. Gallen Symphony Orchestra (Switzerland), professor of flute at the Vorarlberg State Conservatory in Feldkirch (Austria). She is a member of "ENIF -aktuelle Musik" and has made numerous appearances both nationally and inernationally as well as making recordings for radio and CD ("ambitus")

Claudia Dora, violin
Claudia Dora studied the violin with Ulrich Lehmann in Bern (Soloist Diploma with honours) and with Felix Ayo in Rome. She gained valuable inspiration from meeting Yehudi Menuhin, Pina Carmirelli (masterclasses) and Christophe Coin. She is professor of violin at the Bernise Academy of Music in Biel (Switzerland) and plays with various chamber music groups (among others Trio Basilea). 1990-1999 she was concertmaster at the "Kammerorchester Basel". CD recordings with the labels Novalis, Pan Classics and derecha.

Marlyse Capt, violin
Marlyse Capt studied the violin with Ulrich Lehmann and Eva Zurbrügg in Bern and with Jean Piguet and Margarita Karafilova in Geneva (Soloist Diploma). Master classes with Pierre Amoyal and György Kurtag. She teaches at the Bern Conservatory and is a member of the "Kammerorchester Basel".

Anna Pfister, viola
Anna Pfister studied violin with Eva Zurbrügg in Bern and viola with Christoph Schiller in Zürich. Attended masterclasses with Bruno Giuranna. She is member of various chamber music ensembles and chamber orchestras, such as Camerata Bern. Anna Pfister is professor of viola at Conservatories Fribourg and Schaffhausen (Switzerland).

David Inniger, violoncello
David Inniger studied with Walter Grimmer, Johannes Bühler in Bern, and Siegfried Palm in Cologne. Master classes with the Beaux-Arts-Trio and Maurice Gendron. Teaches at Köniz Musikschule. He is a member of various chamber music formations, among others La Strimpellata Bern and Trio Basso di Berna. He has made numerous radio and CD recordings (BIS).

Käthi Steuri, double-bass
Käthi Steuri studied with Bela Szedlak in Bern an Franco Petracchi in Geneva (Soloist Diploma). Besides teaching, former interests centred on contemporary works and Orchestra performances, among others, at the Menuhin Academy in Gstaad. She is a member of various chamber music formations such as Camerata Bern, La Strimpellata Bern and the Trio Basso di Berna.

Shalev Ad-El, harpsichord
Shalev Ad-El studied at the Royal Conservatory in The Hague. He performs as soloists with the Israel Chamber Orchestra and the Israel Philharmonic Orchestra. He is conductor of the Musica Viva Amsterdam and of the Norvegian Soloists Choir. He is guest conductor of the Amsterdam Baroque Orchestra and the Festivals in Israel, Prague, Mecklenburg, Zerbst, Brünn and at the Leipzig Gewandhaus. He teaches at the University of Brünn (Baroque Academy).
---
in co-operation with WU PROMOTION, Beijing
and with the kind support of Pro Helvetia, Arts Council of Switzerland
18.5.2000
(*) Note: Information by courtesy of the Swiss Embassy in Beijing
Back to the top of the page
Page and hosted by SinOptic