Guangdong Economy in the First Half of 2009
Guangdong economy went through the toughest time in the past 12 months, influenced by the global financial crisis. The main indicators of economy stabilize and bode well now. In the first half of 2009, total GDP was 1,653.8091billion yuan, increased by 7.1%. Industry output gradually rebounded. Consumer market kept prospering. Investment increased steadily and quickly. The fall of foreign trade slowed down.
Table 1 GDP2
| | | | |
| --- | --- | --- | --- |
| (Unit: 100 million yuan) | 2008 | 1st Qtr of 2009 | 2nd Qtr of 2009 |
| Total GDP | 35,696.46 | 7,687.73 | 16,538.09 |
| Primary Industry | 1,970.23 | 389.07 | 779.30 |
| Secondary Industry | 18,402.64 | 3,617.48 | 8,447.90 |
| Tertiary Industry | 15,323.59 | 3,681.18 | 7,310.89 |

Industries
The tertiary industry increased by 731.089 billion yuan in value, up by 11.0%, which was 7.0% and 6.5% higher than the primary and secondary industry respectively.
Small enterprises and private enterprises showed advantages. The accomplished value-added by small enterprises had the highest growth, exceeded that of large and medium enterprises. Private enterprises had a value-added of 183.429 billion yuan, relatively stable in development compared to other enterprises.
From 2008 to the first quarter of 2009, the development of light industry was faster than heavy industry, because several newly started key projects accelerated the output of infrastructure material enterprises. The development gap between heavy and light industries is still enlarging.
Production of equipments for mobile communication infrastructure and handset increased, as a result of the construction of 3G network. The value-added of the pharmaceutical industry increased because of the health reform.
The value-added of industry in mountain areas enjoyed a higher increasing rate than the rest of the province. 3 out of 21 county-level cities, i.e. Zhuhai, Shaoguan and Dongguan, had a decrease in value-added of industry.
Employment
At the end of the second quarter, there were 9.9813 million urban employees, 97.4 thousand less than the end of 2008, but 41.4 thousand more than that at the end of the first quarter. Registered urban unemployment rate was 2.69%. Enterprises had the largest cut of employment.
Employees of manufacturing industry increased largely compared to the end of the first quarter, but still less than that the end of last year. The percentage of employees in the tertiary industry went up, reaching 32.3%, influenced by the strategy of'Industry Transformation and Labour Force Transformation'. The number of new employees in the east, west and north regions rose, while that in the PRD dropped.
Domestic demand
Table 2 3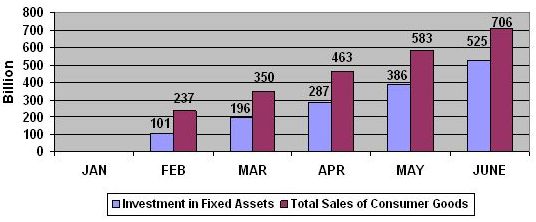 Domestic demand exceeded imports and exports largely. Fixed asset investment reached 525.220 billion yuan, up by 15.5% year on year. Especially in June, the increase was 139.347 billion yuan, which was a large increase than the previous month. There were 8,217 newly started projects (excluding real estate development and private investment in house) in Guangdong, with an average construction scale of 41.72 million yuan, up by 40.3% year on year. Among them, there were 241 projects with an investment of over 100 million yuan, 109 more than the same period last year.
Investment in state-owned sector increased by 61.4%, reached 163.076 billion yuan, while that in private sector fell by 0.8%, with a total of 179.487 billion yuan. The main reason for this was the decrease of investment in real estate; the growth rate would be 16.6% if it was excluded.
Total sales of consumer goods were 705.722 billion yuan, up by 15.0% year on year. Influenced by the scrapping of road toll and cut in taxes, retail of cars increased by 22.9%. Sales of products related to the real estate industry enjoyed a large increase; among them, building materials and decoration materials increased by 36.0%. Hardware, electrical materials and appliances increased by 54.2%.
FDI
The actual utilisation of FDI was USD 9.798 billion in the first 6 months of 2009, up by 0.2% year on year. There were 1968 newly signed projects, with total contracted FDI of USD 7.548 billion, down by 51.2% and 51.5% respectively. The actual utilization of FDI in the primary and secondary industry shrank, on the contrary to that in the tertiary industry.
Table 3 Amount of FDI4

Main Challenges and Opportunities
Foreign trade
Table 4 Total Imports and Exports5

Total imports and exports in the first half of 2009 was USD 257.87 billion, down by 20.7% same period last year, while total exports was USD 153.42 billion yuan, down by 18.6%.
Foreign-invested enterprises and state-owned enterprises experienced a larger decrease than others, while private enterprises had a smaller decrease.
Exports of mechanical and electronic products, products of high-and-new technology had a larger decrease than others, and traditional labour-intensive products had a smaller decrease. Exports of agricultural products, luggage and bags increased slightly.
Foreign trade goods handled in ports were 169.16 million tons, down by 9.3% year on year.
Closer connections between Guangdong, Hong Kong and Macau
Construction of HK-Zhuhai-Macao Bridge starts this year.
Cooperate in service industry as well as manufacturing industry.
1 billion yuan government support for transformation and upgrade of Hong Kong and Macau enterprises6.
Policy Issues
The strategy of 'Industry Transformation and Labour Force Transformation'
Over 200 foreign-invested enterprises moved out of PRD in the first quarter of this year7, more high-end enterprises came to Guangdong. Singapore cooperates with Guangdong on Guangzhou Knowledge City Project. There are 169 enterprises of Fortune 500 in Guangdong.
In the first half of this year, there were 1,895 projects in 33 provincial industry transformation zone, with a total investment of 353.2 billion yuan.
The Plan of Reform and Development in PRD 2008-2020
Two Hub Cities: Guangzhou & Shenzhen
Increase in Urbanisation level
Restructure and upgrade industries
Infrastructure construction8
Sophie Lu


Assistant for Economic and Cultural Affairs

Consulate General of Switzerland in Guangzhou