A Report on the Meeting of APEC
Ministers Responsible for Trade In Shanghai
1. Main Achievements of the Meeting
The Meeting of APEC Ministers Responsible for Trade (MRT) was held on June 6-7, 2001 in Shanghai. Ministers from Australia, Brunei Darussalam, Canada, Chile, China, Hong Kong, Indonesia, Japan, the Republic of Korea, Malaysia, Mexico, New Zealand, Peru, the Philippines, Papua New Guinea, Russia, Singapore, Taiwan (in the name of "Chinese Taipei"), Thailand, the United States of America, Viet Nam(*) and the Director General of the WTO, Mr. Michael Moore, participated in the meeting.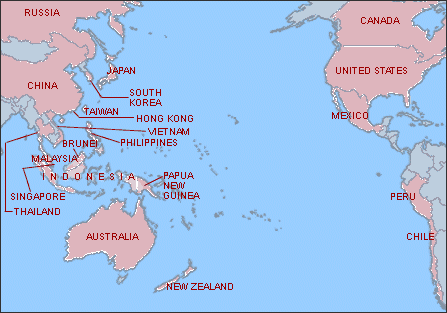 The meeting reviewed recent trends of economic development in the Asia Pacific region and looked into critical multilateral and regional trade policy issues that member economies are facing. The
meeting was convened at a time when the economy in the region is experiencing a slowdown since the second half of last year. To inject vigor into their respective economies, Ministers agreed to further enhance bilateral and multilateral co-operation to promote free and open trade and investment, and take early action to prevent possible economic disturbance. They reaffirmed that APEC, as the world's most dynamically growing region and accounting for nearly half of the world trade, has a special responsibility to exhibit leadership in the multilateral trading system. Ministers agreed that the WTO Ministerial Conference to be held in November in Qatar presents a critical opportunity for the expeditious launch of the new round in 2001. The Geneva process should be pursued with urgency and strong political engagement. All parties concerned should demonstrate flexibility.

In order to create business opportunities in the region, the 2nd APEC Investment Mart was held on June 9th-15th in Yantai, Shandong Province of China. The 3rd Investment Mart and Symposium will be hosted by Russia in September 2002 in Vladivostok, and the 4th Investment Mart by Thailand during the Leaders Meeting in 2003. Ministers also discussed problems in some concrete fields such as "Human Capacity Building", biotechnology, digital society, new economy and electronic commerce.

2. Closer Tie of China to APEC

After the entry into APEC in 1991, the People's Republic of China has been actively taking part in all kinds of activities of the organisation. During the same time, the economic relations of China with other APEC members are increasing. APEC has become the most important region in the world for China.

Nine of the ten largest trading partners of China are APEC economies, which are Japan, the US, Hong Kong, ASEAN members, the Republic of Korea, Chinese Taipei, Russia, Australia and Canada. Nowadays, three fourth of China's import and export was conducted with APEC economies. After a slight drop in 1998, China's trade volume with other APEC members increased in 1999 by 11.1 percent to 270.97 billion dollars. Exports rose by 6.2 percent to 143.26 billion dollars and imports by 17.3 percent to 127.71 billion dollars. In 2000, China's trade with other APEC members reached 351.72 billion dollars, up 29.8 percent, with exports amounting to 182.781 billion dollars, up 27.6 percent, and imports 168.94 billion dollars, up 32.3 percent. During the first three months of 2001, China's trade with other APEC members totaled 83.219 billion dollars, up 14.7 percent from the same period in 2000. Exports were 42.457 billion dollars, up 13 percent, and imports were 40.762 billion dollars, up 16.4 percent.

The same situation could be seen in the statistics of foreign investment in China. The actual amount of foreign direct investment utilized 1999 in China was 41.24 billion US dollars, of which 74.9% (30.92 billion US dollars) was derived from APEC economies.

For a better image, Shanghai made great efforts for the success of the APEC meeting. The city has arranged for 2,000 young volunteers to serve directly under the APEC 's working team. The city has also called on 20,000 volunteers to give information about APEC, train citizens (especially the taxi drivers) to learn English and supervise treatment carried out to improve the city's appearance. The city was made more beautifully with more trees and grass, light and colours. All the road signs will be in Chinese and English. One of the APEC meetings was elaborately arranged on the boot with traditional Chinese decoration in the most famous South-China Town "Zhou Zhuang" near Shanghai.

3. The Last Step of China into WTO

Another gain of China during the APEC meeting was the elimination of the last barrier to the World Trade Organization (WTO). The Ministers welcomed the substantial progress made in the negotiation on China's accession to the WTO and urged for rapid completion of the process within 2001.

During the APEC meeting in Shanghai, Chinese Minister for Foreign Trade, Shi Guangsheng, and U.S. Trade Representative, Robert Zoellick, had sideline talks about China's WTO membership. The U.S. and China have reached a consensus on issues over China's entry to WTO as early as this year. The meeting brought China one step closer to concluding a 15-year long quest to enter the WTO.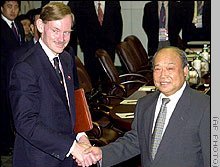 Robert Zoellick and Shi Guangsheng
reached "consensus"
Chinese officials are keen to join the 141-member WTO by November, when WTO trade ministers meet for talks in Doha, Qatar. WTO entry will make it easier for companies to do business in China, by establishing a common set of operating rules for firms. It would mean the opening of China's markets and the easing of trade restrictions. "There will be some winners and some losers, but from a wider perspective it's a win-win situation for everyone," said George Leung, economist for HSBC.

4. Taiwan wants president at APEC

During the Meeting of APEC Ministers Responsible for Trade, a spokesperson for the Taiwanese foreign ministry, Chang Siao-yue, said that Taiwan saw no reason why its president could not attend the Asia Pacific economic summit that will be held in China later this year.

When Mr Chen had himself suggested the same idea last month, the Chinese -- who consider the island a breakaway province -- rejected it immediately, saying Taiwan should follow existing procedures and limit its APEC representation to a cabinet minister or business leader.

On the other hand, the Bush government seems to maintain the status quo across the Taiwan Street and the arrangement thus far for the APEC summit procedure. Earlier, the American trade representative, Robert Zoellick, said it would be constructive for Taiwan's President Chen Shui-bian to attend the summit. But, National Security Adviser Condoleezza Rice denied the possibility of Chen Shui-bian 's participancy in the APEC summit. She repeated that the representative of Taiwan to the summit used to be the highest economic official. This kind of arrangement worked, and no change will be expected.
Appendix:
Time Schedule & Activities of APEC 2001
Date & Venue
Major APEC Meetings & Events
Other APEC Meetings
and Associated Events
Feb. 9-10, Beijing
APEC Symposium on
E- commerce and
Paperless Trading
Feb.11-19, Beijing
APEC SOM I and Related Meetings
(SOM Senior Officials' Meeting)
May 14-16, Beijing
High Level Meeting on
Human Capacity Building
May 18-20, Tianjin
ASC Consortium Meeting
May 26-June 3, Shenzhen
APEC SOM II and Related Meetings
June 6-7, Shanghai
Meeting of APEC Ministers
Responsible for Trade
June 9-15, Yantai
2nd APEC Investment Mart
July 9-14, Shanghai
APEC Youth Festival
Aug. 16-24, Dalian
APEC SOM III and Related Meetings
Aug. 22-25, Beijing
APEC WLN Meeting
Aug. 26-31, Shanghai
APEC SMEs Ministers' Meeting
Sept. 6-9, Suzhou
APEC Finance Ministers' Meeting
Sept. 21-25, Suzhou
APEC Technomart IV
Oct. 15-16, Shanghai
Informal SOM
Oct. 17-18, Shanghai
13th APEC Ministerial Meeting
Oct. 18-20, Shanghai
CEO Summit
Oct. 18-21, Shanghai
ABAC Meeting
(ABAC APEC Business Advisory Council)
Oct. 20-21, Shanghai
9th Informal APEC
Economic Leaders' Meeting
______________________________________
*When APEC was established in 1989, there were 12 founding members, namely Australia, Brunei Darussalam, Canada, Indonesia, Japan, Republic of Korea, Malaysia, New Zealand, Republic of the Philippines, Singapore, Thailand and Unites States. In November 1991, APEC accepted three new members, namely People's Republic of China, Hong Kong (China) and Chinese Taipei (Taiwan). APEC accepted Mexico and Papua New Guinea as new members in November 1993; Chile in November 1994; Peru, Russia and Vietnam in November 1997. Back to the text.
14.6.2001
Consulate General of Switzerland
for business related matters, please reply: sha.vertretung@eda.admin.ch