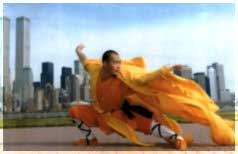 Chinese Wushu, is known today in western countries as the heritage of old Chinese way of fighting. But only few of the martial aspect is still practiced and the old schools of fighting have been kept in secrecy even today.
The reason of this is that Chinese are very conservative, and Masters inheritors of traditional Wushu schools (Men pai) are very strict on precept for taking disciples.
It is why most of the foreigners getting to study Martial Arts in China are only able to study the demonstration part of Wushu, or Wushu gymnastics that is teached over the open Universities of China. Many routines changed for competition with the name of the old schools are to sell for foreigners. Sports Universities are expensive and modern Wushu is a very low of interest for a good foreign seeker of the Martial way.
Concerning fight, foreign students in China have for most only the chance to study the sport Sanda fighting that is a bit far from the old way of the warriors.
They can also go to the Shaolin (So called) Monastery to practice with the legendary monks, but they are not any more true masters Monks in Shaolin, they all have TV, and cars, in stead of practicing the way (or between).
Been in seclusion to practice Chan Buddhism and old Wushu is not the modern Shaolin monk's hunt, but the foreign friends (waiguo pengyo or Laowai) are more of interest because of economy comfort.
China is very big but the opening wushu market to the foreigner offers for most a very small part of that was practiced before. The rude contact as well as the cultural clash between Laowai and Chinese make the think even more difficult, even if you are with sincere and good hart.
The best think to do if you want to practice traditional Chinese martial arts is not to go to China, but first to learn from a traditional Kungfu School from your home town in the beginning.
Then if you have good contacts or you can speak a little Chinese, make the jump, but be careful, don't look for the master in the Chinese mountains, you will probably only fine him in your dreams or in the Kungfu movies.
In fact China is a fantastic place where people are very truth with there feelings by expressing them. If you don't get too close, you will keep your integrity and visit Chinese people getting a marvellous experience.
The 10 good advices for a Laowei Kungfu seeker in China.
Learn Chinese language
Don't trust to much people there, look for sincere humble practicers
Don't fall in knees in front of all Chinese 'Masters' with beard (or not)
Always think logical, ask your teacher how to fight with Wushu
Take your teacher income in consideration (if he is a good men) and show him natural respect
Study with heart to become better not more violent, happiness is the goal
Never play drink games with Chinese brothers, or compete with cold beer or cold Water, be careful of clean food for your training.
Follow your dream but keep a foot on earth your country is far away
Make friends with Chinese people, but keep away from fast marriage and don't fight in the street.
Study Chinese culture to understand Chinese old history and pre-Maoist marvellous Civilisation, where the Wushu came from…